The year 2023 has officially arrived, and let's just say, I believe that this year will be far more interesting than 2022 for The Wrestling World.
For a bit of a recap, here are all [most notable] things that happened in 2022.
To begin with let's start with the most obvious — Vince McMahon retiring as the CEO of WWE and Triple H coming into power as the Chief Content Officer. I am not going to lie — this was very much welcomed by the WWE Universe. Following this change, many released superstars came back into the company, some who have shined, and some who really haven't. But who knows, maybe they might succeed this year? Other surprises that happened this year were Sasha Banks and Naomi walking out, which was quite shocking, and most importantly, the grandest return of them all, Cody Rhodes returning at Wrestlemania. This wasn't really a surprise as Cody's return rumours were present all over Wrestling's Fan social media feed.
There are many other great things that happened last year, but this article isn't about that; in fact, this article is about what I predict is going to happen this year.
#7 – CM Punk Will Return To WWE In Some Capacity
Primarily, I believe that in some shape or form, CM Punk will return to WWE. Yes, this is a bit of a stretch, but hey, I don't really think that he will go back to AEW after the All Out Incident and everything the Young Bucks and Kenny Omega said about him after they returned from suspension. Plus, it looks like Punk's relationship with Tony might've significantly severed, so in order for Punk to continue pursuing his dream of wrestling and having a good 'Retirement Match', it's best for him to go to Titan Towers. I mean, what is he going to do? Go to Impact or back to a 'Hostile Working Environment' with "EVP's who don't know how to even manage a Target"? His words, not mine.
#6 – The Bloodline Will Break Up
This, I'm 110% confident is going to happen, no matter what anyone says. The Bloodline will break up. This has been speculated for quite some time, but after Sami Zayn became the Honorary Uce, no one has really wanted The Bloodline to break up as he added a refresher to what I think will be a soon-to-be unstable faction. You can tell this might happen because of Kevin Owens and how he is slowly adding an unstable presence during the feud between himself and the Tribal Chief. By Kevin Owen's presence increasing in the Bloodline each week, the more often Roman Reigns lashes out at his Honorary Uce.
#5 – Roman Reigns Will Lose The WWE Championship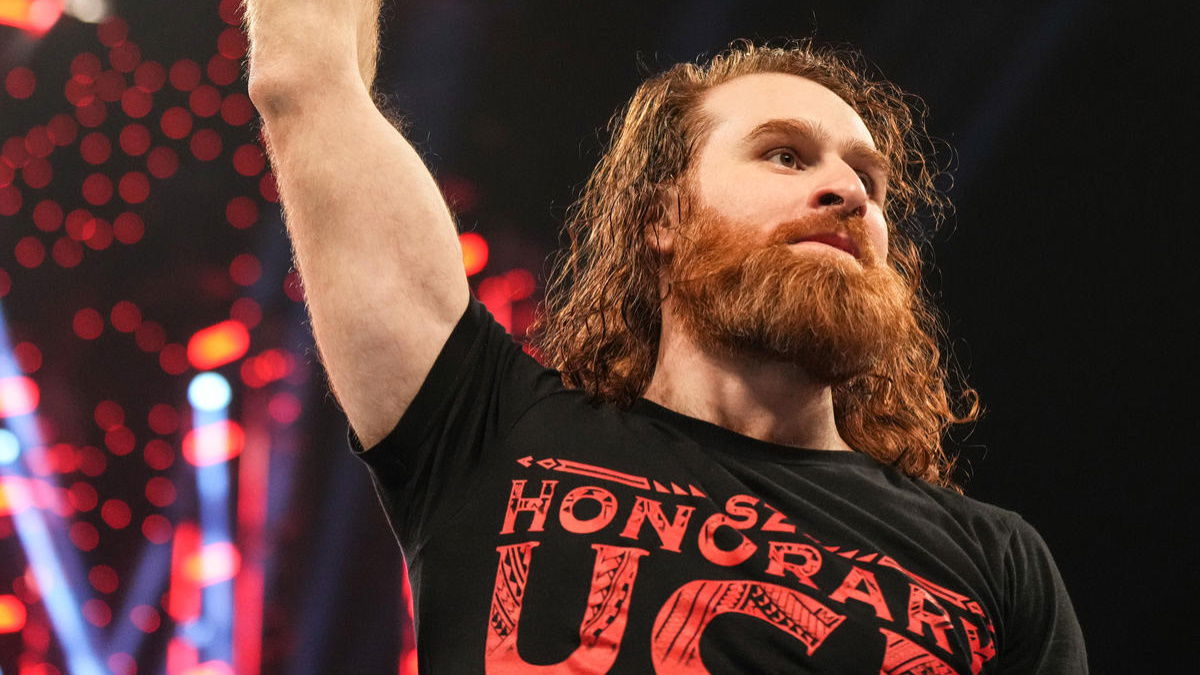 Speaking of The Bloodline, I believe that Roman Reigns will lose the WWE Championship to Seth, Cody, or Sami. This action alone will cause The Bloodline to slowly fall apart.
But, despite losing the WWE Championship, Roman Reigns will remain the Universal Champion for over 1000 Days. But who might he lose the Universal Champion to you may ask, well, that I say is either a member or The Bloodline (cough cough Solo Sikoa/Main Event Jey Uso) or Kevin Owens. These three wrestlers have proven themselves to be outstanding and very capable of dethroning the Tribal Chief himself. This can be proven as Kevin Owens ended Roman Reigns three year undefeated streak (while pinning Sami) or Solo not doing the 'We The Ones' gesture. Plus, remember what Jey Uso did at Raw XXX, he helped Sami and didn't listen to the Tribal Chief, that action was quite surprising if you ask me.
#4 – The Forbidden Door Will Open
I believe that in some shape or form, the Forbidden Door will open, and by saying that, I mean that superstars from AEW might come and 'hijack' WWE. This action alone will be a perfect way to close of the year if it's a PLE like a Survivor Series as the whole idea for the past couple years is 'Brand Supremacy'. Plus, before the Royal Rumble there have been numerous rumours circulating that wrestlers like Jay White and wrestlers from New Japan might debut at the Royal Rumble or just have a quick appearance. Who knows, maybe this might lead to something big between the major wrestling companies.
#3 – Roman Reigns Will Offically Become A Part-Time Talent
This is a sad one, but I believe that 2022 was the last year of somewhat 'full-time' Roman Reigns. With that being said, I believe that Roman will be joining his cousin in Hollywood. It is sad, but unfortunately, I think his days in the squared circle are numbered. We even saw it in 2022, I mean, Roman, the Top Guy in the company didn't defend his titles for a solid four months in 2022 (not consecutively) so I question, what makes this year any different?
#2 – WWE Going Up For Sale Is A Work
One prediction for WWE this year and while it may seem outlandish, I don't think that WWE will go up for sale. Even though this topic has been surfacing in the news lately, I don't think that Vince or whoever is the CEO/Chairman will decide to sell the company. This is the case because ever since Triple H became the Chief Content Officer, ticket sales, viewership, and revenue for the WWE has significantly increased, so selling the company isn't a wise decision on their end. But then again, if Vince isn't in control of his company, he will do anything in his power to destroy it.
#1 – Edge Will Retire This Year
Finally, I believe that Edge will unfortunately retire this year in his hometown of Toronto at Summerslam or a special PLE that is designed for Toronto, similar to Clash At The Castle. His "retirement tour" will start when he returns at the Royal Rumble at Number 18 [you can quote me on that] and all the events that precede will lead up to his great retirement match, maybe against the Judgement Day or maybe against John Cena. Personally I would love to see him face John Cena and run that feud back or face Kevin Owens. If that happens, the crowd will be incredibly lively. While this isn't really a prediction, as he already said on the record that he will retire in August, he didn't mention which PLE he will do it at. I believe that the PLE will be called, Nightmare In The North and will be hosted at the Rogers Centre. I mean, where else can it be? He went to his first Wrestlemania at the Rogers Centre when he was younger, so creative-wise, it makes the most sense.
In conclusion, these are my predictions for all the events that will happen this year. I am quite confident that these events will occur, but as we have seen from last year, you never truly know what to expect when it comes to World Wrestling Entertainment.