On an early Tuesday morning, I wake up to a strong smell of baked cookies my dream oven has whipped up. Ever since I got the oven for my 16th birthday it makes me breakfast one second after ordering, giving me more time to sleep in on my smart bed. The warming, massaging, advanced tech bed kept me up all night, making me very tired this morning but, as I hop into my bathtub, I know I will be wide awake.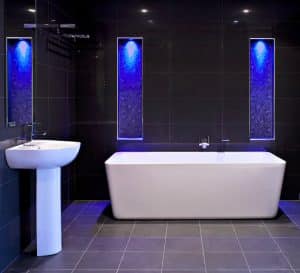 I finally get out of bed to my amazing bathtub with its massaging, bubbling features. I grab my phone and connect to the bluetooth speakers that are connected to the bathtub. The vibrating loud music gets me awake for the day. I forgot my towel, so I call over my robot, Bob, to hand me a towel. Bob helps me do a variety of things. While I was drying up I picked out my outfit on my phone and Bob brought it in for me. I got dressed up and got a notification from my dream oven saying my food is ready.
I head downstairs using the elevator and sit down to eat. Bob begins to serve me while I catch up on my social media. After I finish eating Bob cleans up the table for me while I go upstairs to get started on my makeup. My makeup artist robot, Stephanie, does my make up for me. She does it in less than five minutes! As I get up Bob brings in my school bag and shoes. I put my shoes on and head out the door. I get into my mini-helicopter with my pilot waiting for me. It takes me less than two minutes to get to my school as it's not far from my house.
I walk into school and all my work is prepared for me by the robots at the school. I sit down and complete all my morning work that is online. As soon as I'm done with all the technology, including the smart board, projectors, Chromebooks, tablets they all shut down by themselves after five minutes of no use. I head out for lunch. My favorite place to eat at is at Lunch in the Sky. The seats float around the sky all while connected to the building. This helps make me very relaxed. I walk into the restaurant and get a seat. I order my food off their tablets. A minute later, the robots come and serve me. Fifteen minutes later, I head back to school for my afternoon class. I open up my Chromebook and select the lesson for today and project it onto the screen. Today's class was just a video of a teacher teaching the lesson. After I finish watching, the projectors and lights turn off, telling me the lesson is over. I head home in my sky fly. My mom doesn't let me use the sky fly a lot due to its impact on my health. She wants me to walk home for the exercise.
I got home and went straight to take a shower. Before I do, I ordered my dinner through my phone. I come out of the shower and catch up on social media once again. While I'm doing so, my phone announces someone is outside the front of my house. I check my surveillance camera through my phone to see my mom coming home from work. Just then, I get a notification on my phone saying my dinner iss ready. I head downstairs and sit at the table in front of my 110 inch tv and eat. After dinner, I head back upstairs and get ready for the night. I brush my teeth and hop into bed. The day is finally over!